Dr. Sriharsha Athria notes that he was seeing a lot of patients from Niagara during his tenure as an Interventional Radiologist in Hamilton.
So when a job opportunity arose in the Department of Interventional Radiology at Niagara Health in late 2017, Dr. Atria didn't hesitate to apply. He saw it as an opportunity to provide more comprehensive care closer to home for many of Niagara's patients.
"I thought, 'We see a lot of people from Niagara. Dr. Athriya remembers. "I knew Niagara Health was welcoming patients, stepping up, and making change locally for patients."
Interventional radiology (IR) is a specialty of radiology that uses medical imaging, including CT scans, fluoroscopy, MRI, and ultrasound, to guide minimally invasive surgical procedures that diagnose and treat a variety of conditions. Infrared procedures include biopsies, insertion of picc lines, angioplasty or stents to open blood vessels, and treatment of cancers by excision of the tumor or through chemical embolization, which limits the tumor's blood supply.
At the time of Dr. Athriya's arrival, the department had two Interventional Radiologists who were working hard to serve patients during limited hours. If patients require overnight radiologist care for conditions such as postpartum hemorrhage or abscess drainage, for example, they should be moved out of Niagara.
Soon after Dr. Atria moved to Niagara Health, he was promoted to Head of Interventional Radiology. The department added fellowship-trained interventional radiologists, diagnostic imaging nurses and medical radiology technologists, and the momentum grew to provide more services with the support of Dr. Julian Dobranovsky, Chief, Diagnostic Imaging, Niagara Health, and Mike Sharma, Director of Diagnostics.
Some members of the interventional radiology team at Niagara Health. The department now includes four Interventional Radiologists, Medical Radiation Technologists, and Fellowship-trained nurses. Together, they assist patients throughout their procedures and aid in recovery and discharge.
To become a world-class healthcare center
In 2019, under the leadership of Dr. Athrea and with funding from Cancer Care Ontario, the department began offering image-guided lumpectomy, making Niagara Health one of the few Ontario hospitals to offer this service. This low-risk procedure, which is performed under conscious sedation, is used to treat small tumors in the kidneys, lungs or liver using a high-resolution probe to burn or freeze the cancer cells. Patients are discharged from the hospital on the same day.
"This is an evidence-based, targeted treatment for cancerous tumors, especially those less than four centimeters in length," says Dr. Athrea. "Previously, only a few centers in Ontario did this, including Toronto, Hamilton and London. We are now proud to say that we offer this treatment locally."
During a routine ultrasound in 2019, doctors discovered a small tumor in Furn Jau's right kidney. Verne, a retired registered nurse living in Niagara Falls, was given the option of surgery, which required the removal of part of her kidney, or an infrared lumpectomy.
She chose the latter after meeting with Dr. Athriya and researching the work he had done in this field previously.
"He was very friendly and informative. I decided to go for it," Vern recalls. "The program is great for people like me who don't want to undergo surgery and would prefer something less invasive. I have been really happy to do this here in Niagara with a remarkably high quality program by highly qualified professionals. If I had to go to Hamilton, it would have been more difficult."
November this year marks three years since Verne had the 60-minute procedure that left her with minimal pain and minimal recovery. She has been cancer-free ever since.
"I'm still here," she says. "I hope this way continues."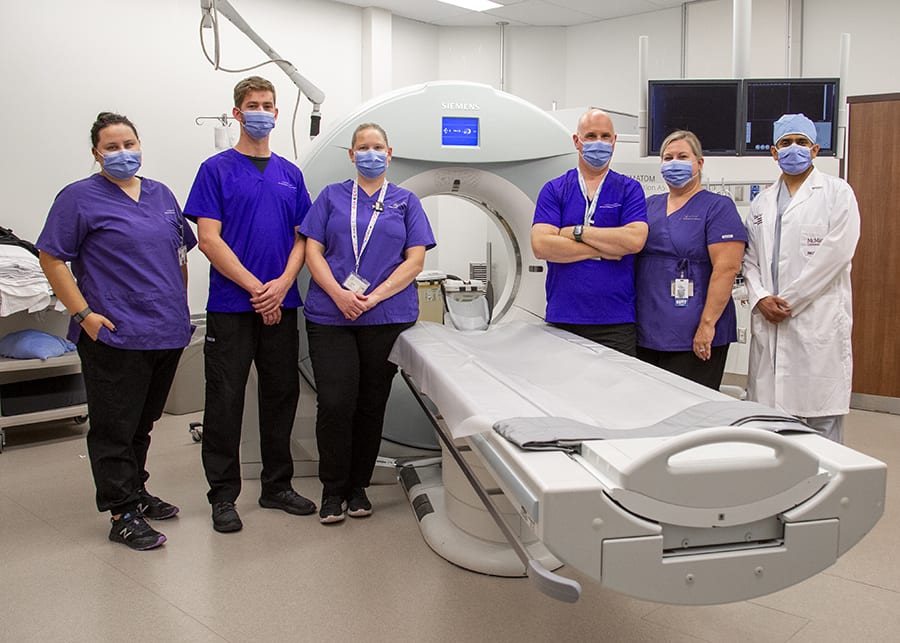 From left: Medical radiation technologists Carly Masia, Brayden Shaw, Sarah Robb, Christopher Provias, Tiffany Saglosky and Dr. Sriharsha Athriya gather around a CT scanner, which is used in some of the procedures performed by the Interventional Radiology department.
Thanks to the dedication of Dr. Athriya and the infrared team, the department now includes four fellowship-trained interventional radiologists, medical radiation technologists and nurses. Together, they assist patients throughout their procedures and aid in recovery and discharge.
The team also created a streamlined system for managing appointments and improving patient care, including letting patients know in advance what to expect on the day of their appointment. This ensures that appointments run on time and that any cancellations are filled quickly to avoid backlogs. Post-procedure follow-up is coordinated by the infrared outpatient consultation clinic.
Interventional radiologists are now on call 24/7, eliminating the need to send patients to other hospitals after hours of infrared therapy. The program has been expanded to treat patients at the Niagara Falls site two days a week, which has helped shorten waiting times for some infrared procedures.
"The work of the entire interventional radiology team has been commendable, especially during the COVID pandemic, and I am grateful to all of them," says Dr. "Now we can offer Image Guided Therapy for Cancer in Niagara which is minimally invasive, safe and recovery time is only a few days with no long-term impact on lung, liver or kidney organ function. By providing these services locally, it instills confidence in clinicians and patients as well. We aim to provide patient-centered care."
Provide patient-centered care close to home
The work of Dr. Athriya and the IR team has influenced nearly every program in the hospital.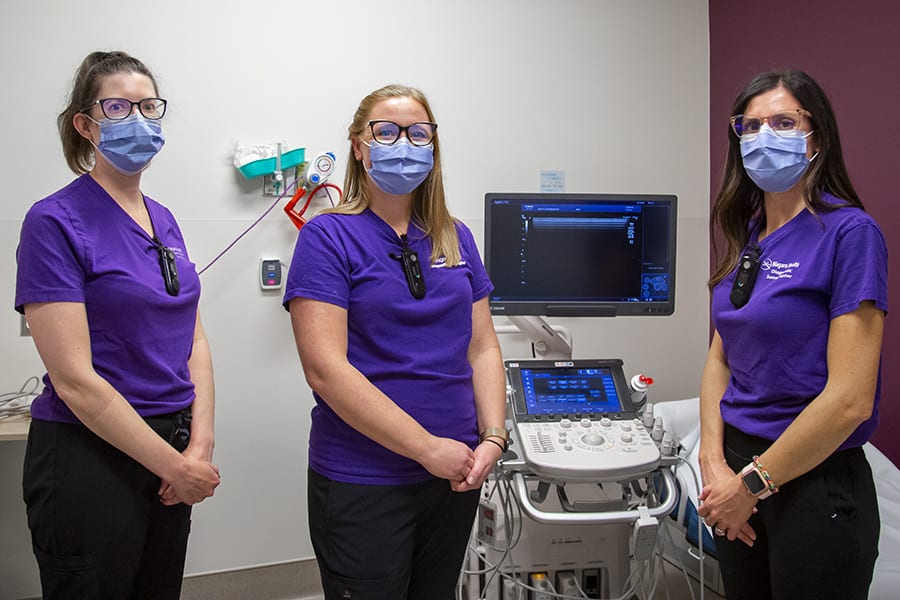 From left: Diagnostic medical photographers Amanda Owendyk, Vanessa Vasius and Marisa Boccia are part of the Interventional Radiology team.
They're a "tremendous resource," says Dr. Michael Levesque, chief of oncology, providing timely access to biopsies and establishing lines and ports to provide treatment and pain relief to patients. Dr. Athriya also checks in regularly with the team at Walker Family Cancer Center to ask what is needed in an effort to improve services and continue to provide quality health care.
"It took someone like Dr. Athrea and other practitioners to nurture and build the program. They all believe in providing patients in Niagara with services you can find elsewhere," says Dr. Levesque. "They want the program to be at its best. We want people to come here because our program is world-class, and not just because it is close to home."
Infrared radiation is also an essential component of hemodialysis care. The department performs critical vascular and surgical procedures, including angioplasty to keep the arteries and veins of hemodialysis patients open when the fistula begins to fail. This is a patient's "lifeline that allows dialysis to clean their blood," says Dr. Dani Lagrotria, MD, chief of nephrology. So too are the long-term dialysis catheters that the team uses with infrared fluoroscopy, a type of medical imaging that uses moving X-ray images in real time inside a patient's body.
"They do a lot to gain access to the blood vessels to support dialysis care," says Dr. Lagroteria. "Without them and the success of this program, we would have had to send patients to Hamilton. Having IR here has done a lot to improve patients' quality of life."
.